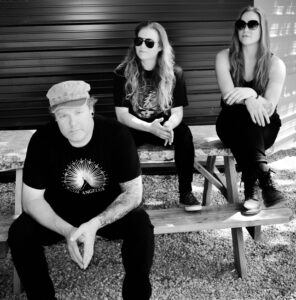 Here we've got one of the most difficult albums to label that we've ever received. I get that Doom Metal has some extensions to the 1970s more specifically to the Heavy Rock and to some extent to the Psychedelic Rock of the late 1960s. Some may say that this is the description of Stoner Rock or Stoner Metal. Well, maybe. Maybe not. I don't see today's bands as an exactly mirror of bands of the past. I just wonder that after all those years of influences by all means there must be something to have been incorporated to the bands music. I don't its impossible to record an album exactly like it was in the 1960s or the 1970s but it's really very difficult because there are lots of features to be carefully thought. Ok, I know today's equipments allow bands to emulate any kind of sonancy, but it's not only that. It's much more. That's what I see here with Temptress and "See," an album full of influences from the late 1960's and early 1970s with some features of today's Doom Metal.
Temptress did their best to musically emulate their influences, however vocals have that strong taste of 1990s bands as Nirvana or Alice in Chains or even Pearl Jam. And that's absolutely natural because those bands had the same influences. I'm avoiding to ciet Black Sabbath as they are the most influenceable band to Doom Metal. I'll inite my dear child of the night to go right to "Into My Soul" and get what I'm saying. However, in this very especific case I found the guitars with a much more modern grip. Well, much more when it comes to the guitar solo using some techniques that weren't reality in the good old days. Vocals sometimes go a little harsher than the usual and reach that despair feeling common in Black Metal and Death Metal bands. An interesting mix I have to say. About vocals, Temptress mix male and female vocals in tracks as "Waiting" but not in the same way Extreme Metal bands do. The female voice is normal, and by normal I mean clean as in with no effects. In "Cry," for instance, female voice is even cleaner contrasting to the low-tuned guitars with lots of overdrive. Those guitars tell me the band is Doom.
The combination heard in "See" makes a great impact though hard to label it. From where I'm standing I'll keep my opinion as Doom Metal. The guitars are so strong to be something else. And, of course, there are guitar solos. A few, just possible to count with the fingers, but there are some. That changes everything if you know what I mean.
Temptress "See" will be released on March 03rd via Metal Assault Records.
Track Listing:
Death Comes Around
Into My Soul
Waiting
Cry
Serpentine
Hopeless
Watch "Serpentine" official video here: