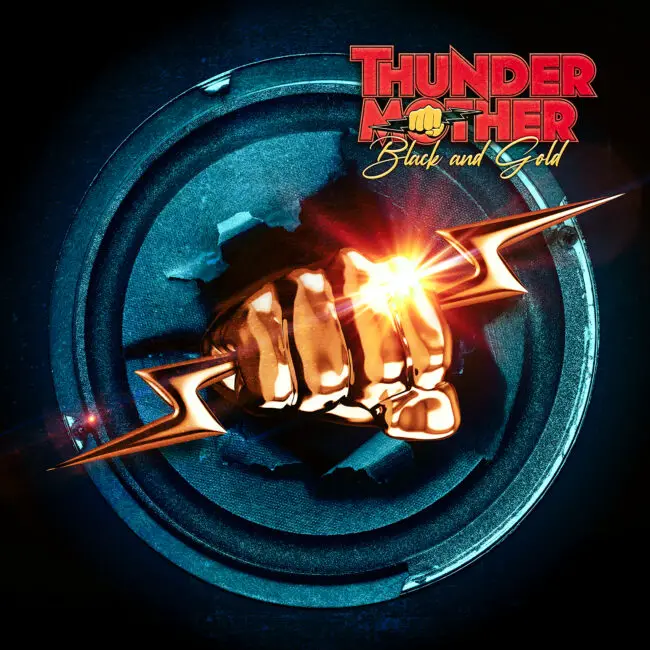 It would be so easy, and to some extent, temptating to say that Thundermother with "Black and Gold" are the female version of AC/DC. An unadvised and careless reviewer would say so only listening to album opener "The Light In The Sky" and its Angus Youngish guitar riffing. Ok, that's the first, and easiest, impression that the band leaves to the fan. However, with a closer and more sensitive listen the band delivers much more. With the AC/DC influence comes all the influences that made AC/DC the band they are and that means the blues and rock'n'roll. "Hot Mess" is a blues drenched ballad with all the emotion and vibration this kind of influence brings. The track is full of the slow and strong chords motion that only the Blues can give to the fan. Besides all that, there is a 1980s feeling that can't go away. Bands as Vixen, Madam X, Lita Ford, Blacklace, and Bitch are present here. Though I have to agree that the guitars are pure Angus Young in most of tracks. There's no way of denying that. Each lick, each riff, each solo address to one of the guitar heroes of this time. It's impossible to listen to the initial guitar riffing in a track as "I Don't Know You" and say it's not inspired on AC/DC. Just impossible.
As it would be expected "Black and Gold" is highly adrenalized with lots of the raw energy this kind of album always brings. All tracks are here to make the fan bang the head with all the power and the glory. It's also possible to listen to other influences as Mötley Crüe and mostly Poison this last one mostly in the choruses. "Black and Gold" is an album to sing along and air guitar. Yeah, air guitar. I doubt any Metal fan who won't have the urge to air guitar in tracks as "Looks No Hooks." It's simply impossible. Thundermother carefully filled their powerhouse with lots of adrenaline. It's almost possible to smell the scent of gasoline and smoke. I still have a hunch that Vixen were the female band that influenced Thundermother the most while listening to "Stratosphere" and all the emotion and energy it keeps. This band breaths energy and power. Following ballad "Borrowed Time" just keeps me hooked to this feeling.
Little by little we are establishing ourselves as a respectful media to Metal bands to release their albums. It's great when we have the opportunity of reviewing all the newest albums of the hottest bands of this sad and lonely and pathetic little world. After reviewing 2020's "Heat Wave" we have the honor of reviewing this brand new release. It's always a sign that our work is respect and must go on.
Thundermother "Black and Gold" will be released on August 19th via AFM Records.
Track Listing:
The Light in the Sky
Black and Gold
Raise Your Hands
Hot Mess
Wasted
Watch Out
I Don't Know You
All Looks No Hooks
Loud and Free
Try with Love
Stratosphere
Borrowed Time
Watch "Black and Gold" official video here: